PCD Pharma Franchise in Tripura – Pax Healthcare welcomes you all to the top pharma franchise company in India. We are based in Chandigarh and deals in the manufacturing, trading, exporting, marketing and PCD business for high quality branded drugs all over the country. Pax Healthcare is ISO 9001:2008, WHO and GMP certified pharma franchise Company. We provide a wide range of pharmaceutical drugs covering various segments. The company is offering the business opportunity to the pharma professionals and others by providing a  PCD Pharma Franchise in Tripura. 
Pharma Franchise business has grown quite well in India in recent times. The increase in the demand for pharma products is flourishing and this has created a lot of scope for the franchise business. This business provides you an opportunity to be your own boss and doesn't require much investment. That is why PCD Pharma Franchise in Tripura by Pax Healthcare is the best opportunity to start your business by associating with the leading Pharma Franchise. We provide the best and unique monopoly rights which will help our associates to grow their business in their territory.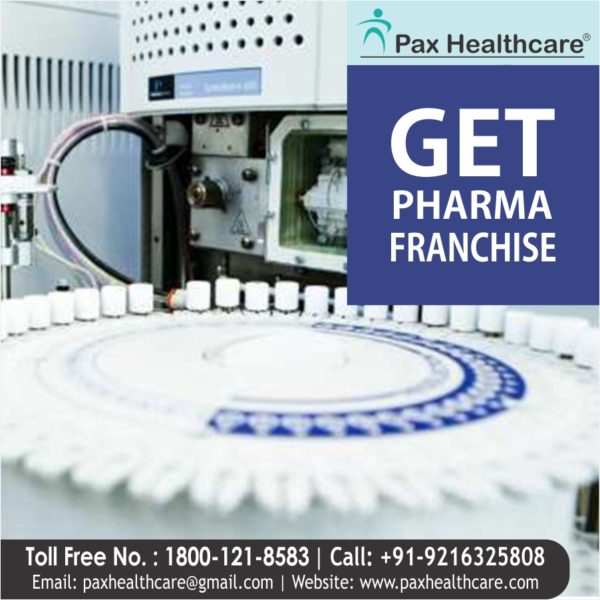 Collaborate with the Top Pharma Franchise Company in Tripura |Pax Healthcare
Pax Healthcare is a leading pharma company established in the year 2008 in Chandigarh. The company has made its prominent position in the pharma industry and considered best for PCD Business. We are completely integrated with advanced manufacturing facilities and technology that helps us in producing world-class drugs. Pax Healthcare strives to provide the products which are effective, safe and pure at the most affordable rates. We are engaged export of the drugs to other countries as well thus, the quality of the products is best.
Our research and development team provides us with advanced and innovative drugs. We have a team of highly experienced and qualified people working with us. Pax Healthcare has associates all over the country who are growing their business with us. Associate with us and get the best opportunity to start your business with the top pharma company in India.
Target Locations for PCD Pharma Distributorship in Tripura
Tripura has good numbers of hospitals and this makes a good scope for the pharma franchise business. The Company is offering its franchise in all the vacant districts of the state. We invite all the pharma distributors, medical representatives, pharma experts and others who are willing to start their own business in the pharma industry to associate with us. Get the best monopoly or distribution rights from our end and start your business.
Here are our target locations for the Tripura based Pharma Distributorship:
West Tripura
North Tripura
SouthTripura
Dhalai
Pax Healthcare is targetting all the vacant locations in our region please feel free to give us a call and know more about the business in your region. Franchise in Tripura has good potential for growth and good return. Join hands with the trusted and reliable pharmaceutical company to start your business in the right manner.
Why Choose Pax Healthcare for the pharma PCD franchise?
Pax Healthcare is one trusted name in the pharma industry. Our franchise partners rely on us for the best business with transparent dealing. We work ethically for our business and provide the best support to our associates in order to help them in expanding the areas of profit. Pax Healthcare is well known branded and has a good customer base. We have good networking with health professionals along with doctors.
Here are some more benefits of choosing Pax Healthcare for Successful business in the pharma industry:
We provide a wide range of drugs at the most affordable prices.
All the products come with quality packaging to provide them long shelve life.
Pax Healthcare has a good transportation network and thus, delivers all products on time.
The Company always have 100% availability of stock
We keep on adding new and innovative products to our products list according to the development in the industry.
Pax Healthcare provides good promotional support to its associates to help them with the competition in the industry at free of cost.
Once you get all these things you are all set to contact the leading pharma company to start your own PCD Pharma Franchise business. Make sure to choose the right company for the pharma franchise Business in Tripura. it is the only way to succeed in this business.
Products for Our PCD Pharma Franchise Partners
At Pax, we only produce safe and quality products. The reason behind our company's popularity is we offer effective products at the justified prices. We use only quality raw ingredients for our medicine production. Following we will share some of our products:-
OMEGA 3 FATTY ACID ,GREEN TEA EXTRACT,GINKGO BILOBA,GINSENG,GREPE SEED EXTRACT,ANTIOXIDANT VITAMIN, MINERALS AND TRACED ELEMENTS (soft gelatin capsules)
THYROXINE SODIUM-50 MCG) GLASS BOTTLE
 GREEN TREE EXTRACT + GINSENG +GINKGO BILOBA + GARLIC +L-CARNITINE L-TARTRATE WITH VITAMINS AND MINERALS
TERBINAFINE-250 MG TAB
Contact Information
Name – Pax Healthcare
Address – SCO-177,Top Floor
Sector 38-C, Chandigarh,160036
Phone Number – +91- 9216325808
Email Address – paxhealthcare@gmail.com