PCD Pharma Franchise Company in Bihar – Pax Healthcare Welcomes you all. We are an ISO 9001:2008 certified pharmaceutical company that is engaged in the manufacturing, trading, exporting, supply, and marketing of Pharma formulations. We offer more than 200 molecules to more than 1200 health professionals all over the country. These products are available in the form of Tablets, Capsules, Injections, Sachets, Syrups, and much more. The company is expanding its presence and thus, now offering its Best PCD Pharma Franchise in Bihar. All our products are best in quality as they are manufactured in the GMP and WHO certified production unit.
We invite all the pharma experts and entrepreneurs to be our pharma franchise partners and start their own business in the pharmaceutical sector. Our PCD Franchise is the best opportunity for you to be a part of a leading Pharma Franchise Company. This is one of the fast-growing sectors in India and thus people are investing well in this sector. Pax Healthcare provides you with this amazing opportunity to start your own business in the pharma industry. So if you are looking top PCD Pharma Franchise company in Bihar then Pax Healthcare is the best option for you.
For more detailed information call us at +91- 9216325808 & email at paxhealthcare@gmail.com.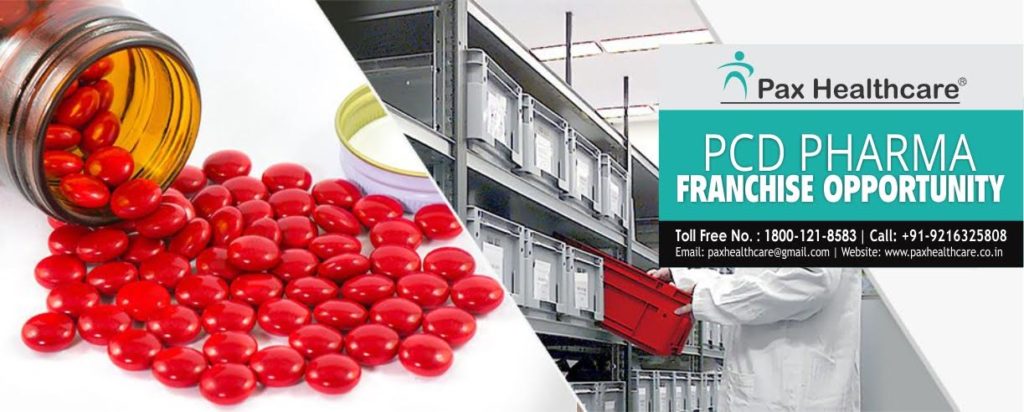 Scope of Pharma Franchise business in Bihar
Bihar is one of India's biggest states that hold a high amount of population. With a high population, the demand for pharma medicines is also growing across the state. Pharma Franchise business comes with a number of benefits and has a wide scope in India. There is a huge demand for pharmaceutical drugs all over the country the reason for this is simply the high demand for pharma products. Talking about Bihar is a state with a population of more than 99.02 million which is huge and it is very difficult to meet the healthcare requirements of this increasing population.
This has created a good market for the franchise business in India. Thus, work with the Best PCD Pharma Franchise Company in Bihar, Pax Healthcare. The government of Bihar is working well to improve the healthcare sector by opening new hospitals and health centers. This has created a good business for the pharma professionals to start their business successfully. If you have skills and invest in the right pharma company then you will definitely get a good return in this sector. There is no doubt in the scope of this business degment is high.
Best PCD Pharma Franchise Company in Bihar – Pax Healthcare
Pax Healthcare is a prominent name in the pharmaceutical sector. The company was established in the year 2008 and is based in Chandigarh. We are supported by the best infrastructure, machinery, and manpower. Pax Healthcare is best known for providing high-quality formulation and is known for PCD BUSINESS. The company provides huge range o formulations that cover the products such as Antibiotic, Antifungal, NSAIDs, Gastrointestinal, Anthelmintic, Cardiovascular, Dermal, Erectile Dysfunction, and several other categories.
Pax Healthcare is a proud winner of UDYOG PATRA AWARD which makes us one of the best pharma franchise companies. We are involved in the manufacturing, trading, supply, exporting, and marketing of pharmaceutical products. The Company offers top Pharma Franchise with the best monopoly rights that make us one of the best pharma franchise companies in India ideal for a pharma franchise business.
Here are the highlights of the Top PCD Pharma Franchise in Bihar:
We have the best team of pharma experts.
The company is assisted by world-class infrastructural facilities.
We have one of the widest pharma ranges.
The company promises on-time delivery of products.
Our products come under great packaging.
Be our pharma franchise partner and get the best support from our end to run your business successfully. Pax Healthcare is one ideal company that understands the market and needs of the associates and thus, provides them with the best support to set up their business in the right ways.
Target Locations in Bihar for PCD Pharma Franchise
Pax Healthcare is the best PCD Pharma Franchise Company in Bihar that is offering this amazing business opportunity to the people of Bihar. The company is offering its PCD Pharma Franchise in all the districts of Bihar with outstanding monopoly rights that will help our associates to grow very well. We invite all the M.R, Pharma Distributors, Pharma experts, and others to associate with us and be our pharma franchise, partner.If you are passionate to start your own growing business in the pharmaceutical sector then this is your ultimate chance.
We are offering our top Pharma Franchise in all 38 districts of the Bihar some of  our Targett locations are here:
Araria.
Arwal.
Aurangabad.
Banka.
Gopalganj.
Jehanabad.
Katihar.
Khagaria.
Buxar
Patna and all other
Our Pharma Product Catagories for Franchise in Bihar
The products offered by the PCD Pharma Franchise in Bihar are best when it comes to quality. All the products manufactured under our banner are safe and effective. Here associates will get a wide range of products at affordable prices. We manufacture a huge range of pharma products that are WHO & GMP certified. We cover up all the product segments.
Check the following list for top Pharma Franchise Company in Bihar:
Tablets
Capsules
Liquids
Dry Syrups
Drops
Topicals
Dental
Sachet
Protein Powder
Eye Drops
Injections
Herbals
What makes us a good option when it comes to PCD Pharma Franchise?
Pax Healthcare is one of the best options when it comes to the PCD Pharma Franchise in Bihar. We provide the amazing support and all the necessary help to all our pharma franchise partners in the different parts of the country. All our molecules are best in quality and effective too. Pax Healthcare provides good support to all its pharma franchise partners and helps them to get established in the industry. The company makes sure that our associates get the best quality pharma products with the best monopoly distribution right. We have a strong base in the industry due to our brand value. Here are some more advantages of choosing us as the top PCD Pharma Franchise Company in Bihar:
Here are the things that make us ideal for franchise business in Bihar:
The Company provides an extensive range of innovative and effective pharmaceutical products which are high in quality.
We will provide good promotional and marketing backup to all our associates in the country so that your PCD Pharma Franchise business grows well in this sector. Our promotional backup includes the promotional kit which includes promotional tools like visual aids, visiting cards, promotional products, catch covers and reminder cards.
The associate will get the best quality products. The quality of the process is kept in mind all the time whether it's manufacturing, packaging, or storage.
PCD Pharma Franchise Company in Bihar, Pax Healthcare offers an effective range of affordable medicine.
Orders are efficiently and timely executed up to the brim within the aforementioned time or the next 24 hours.
The company has the best team of experts who are well-certified and qualified in their field.
We have our all production unit
All the manufacturing take place in the excise-free zone
Gifts for doctors.
The addition of new and innovative products in our product portfolio.
Regular updates on the latest launch and information in pharmaceuticals.
Associate with the Top PCD Pharma Franchise Company in Bihar, Pax Healthcare and start your own successful business. Here you will get the best business deals and a good profit margin on the products. Start your business with us and get the best opportunity in Bihar to be part of a profound Company in the Pharmaceutical sector.
Contact Information
Name – Pax Healthcare
Address – SCO-177, Top Floor
Sector 38-C, Chandigarh,160036
Contact Number – +91- 9216325808
0172-4620244
Email Address – paxhealthcare@gmail.com