PCD Pharma Franchise Company in Baddi – Pax Healthcare is a transcendent pharma company that has firmed its niche in the pharmaceutical sector of Baddi with constant exertion. The company is a preeminent manufacturer, exporter, and supplier of rich quality pharma products that are produced in compliance with WHO-GMP guidelines. Being the Top Pharma Franchise Company in Baddi, Pax Healthcare is successfully nudging the success threshold in the pharma sector.
Pax Healthcare is engaged in fabricating the premium range of pharma medicines covering various divisions including cardiovascular, gastrointestinal, antifungals, diabetology, gynecology, pediatrics, antibiotics, erectile dysfunction, and several other specialties. These products are trusted by top-class doctors, healthcare professionals, and medical institutions. If you want to expand your business horizon in Baddi, then grab the business proposal offered by the most prominent PCD Pharma Company in Baddi, Pax Healthcare.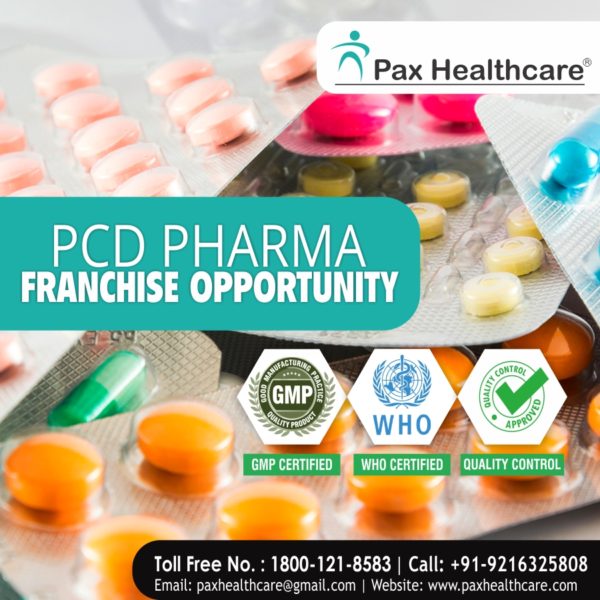 Step into the world of success by commencing your own business with us. Call us on +91-9216325808, +91 9216325807, 9317503300, or write to us at paxhealthcare@gmail.com to know thorough information.
 Why Invest in PCD Pharma Franchise in Baddi for Rewarding Business Operations?
Asia's biggest pharmaceutical hub Baddi is an industrial town in the Southwestern Solan district of Himachal Pradesh that has a good command in healthcare services. Baddi is regarded as one of the key locations where the pharmaceutical sector is broadening its capabilities and attracting a number of business sectors to try their streak of luck in the town.
Due to peculiar climatic conditions and non-stoppable healthcare issues, the demand for pharma medicines is not taking a break and expeditiously booming at a rapid pace. To reach this maximum demand extent, there is a need to provide effective medicines in a bulk. Thus, if you are planning to jump into the pharmaceutical sector and want to make a wider market recognition in your business in Baddi, then connect with the leading Pharma PCD Franchise Company in Baddi, Pax Healthcare because we are all set to make your future stable in the pharma sector.
Elite Product Range At the Most Reliable Values
With the optimum usage of resources and state-of-the-art manufacturing facilities, Pax Healthcare is constantly producing the best quality pharma medicines to meet the medicinal necessities of people. Our complete product range is designed by India's most reputed pharma practitioners with utmost expertise. Furthermore, our formulations undergo precise quality testings done by the drug regulators to buck up on the ultimate safety of the products.
The product range delivered by Pax Healthcare is available in the following forms:
Tablets
Syrups
Liquids
Injections
Topicals
Drops
Sachets
Capsules
Protein Powder
Dental
Eye Drops
Herbal/Ayurvedic
Captivating Promotional Reinforcement Granted by Pax Healthcare
Outshining in the product quality and franchise business opportunities, Pax Healthcare also transcends in granting customized promotional and marketing tools to its franchise associates. The tools offered by us are provided without any additional cost which immensely impresses the associates. Setting its foothold in the Baddi market, the company has left no possibility to make its franchise partners lack in progressing their business smoothly.
Thus, we have initiated to provide a magnetic package of promotional tools to our business amalgamates that are joining us for PCD Pharma Franchise in Baddi. Here are the marketing tools offered by the most reputable pharma company:
Visiting Cards
Files & Folders
Promotional Literature
Notepads
Company Letterhead
Brochures
Product Cards
MR Bags
Order Pads
Visual Aids
Report Formats
Pens, and a lot more.
Step into the World of Success with the Top PCD Pharma Company in Baddi
With a vast network all around the country, Pax Healthcare is one by one marking all the regions of India by its sublime services and now, the company has derived its presence in the Baddi town of Himachal Pradesh. We are considered a well-known brand that is working in the Baddi market providing a far-reaching range of products along with growth-oriented business deals. If you are trying to set up your own business in Baddi and want to work with the most credible, reliable, and prestigious pharma company, prefer to work with the Best PCD Pharma Franchise Company in Baddi, Pax Healthcare.
Below are the benefits of working with us:
Monopoly Rights
Prompt Delivery
Safe Packaging
Accurate Business Deals
24/7 Customer Assistance
Incentives and Rewards
Assured Returns
Set your footprints in the Baddi pharma market and run your own business with complete freedom and satisfaction by joining hands with the Leading Pharma Franchise Company in Baddi, Pax Healthcare. We assure you to make your career stable in the pharma industry and provide you boundless expansion contingencies.
Reach Out to Us!
Name – Pax Healthcare
Address – SCO-177,Top Floor, Sector 38-C, Chandigarh,160036
Phone – +91-9216325808, +91 9216325807, 9317503300
Email – paxhealthcare@gmail.com