PCD Pharma Franchise in Maharashtra – Pax Healthcare Pvt Limited was incorporated in the year 2006 and strives to provide better healthcare and medical facilities to the people. With the ISO 9001:2008 certification, the company owns ultra-modern state-of-art manufacturing facilities. Pax Healthcare is best for the Franchise business and offers great support along with a wide range of quality to the associates. The Company at present is offering its best PCD Pharma Franchise in Maharashtra with the best monopoly rights.
We welcome all the pharma professionals who want their own business in the pharma industry to join us in our business venture. PCD Pharma Franchise business is very popular at present the reason is simply the high demand for medicines. This business provides good profit and has good growth aspects that are why many pharma professionals are showing a keen interest in PCD Pharma Franchise in Maharashtra. Pax Healthcare has emerged as a leading domestic player in the pharma industry and making a good position globally as well.
Contact Pax Healthcare for the Best business opportunities. For more queries regarding Pharma Franchise +91- 9216325808, 9216325807, 9317503300, or drop us a mail at paxhealthcare@gmail.com.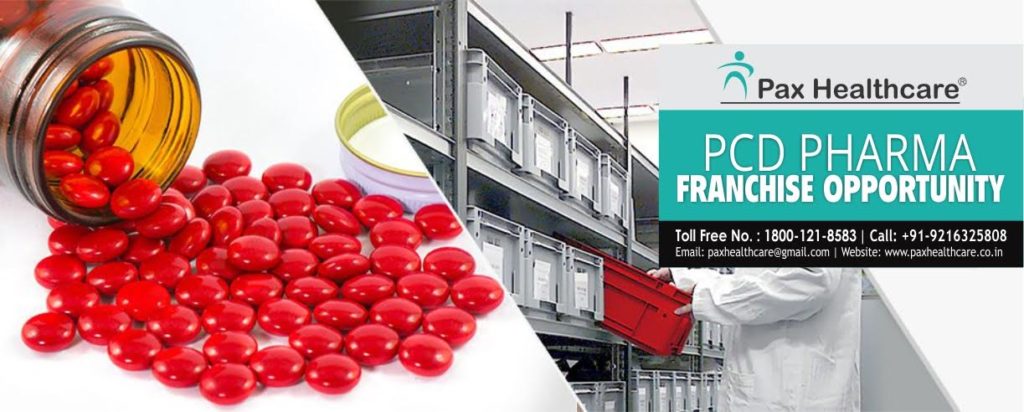 Pax Healthcare 'Leading PCD Pharma Franchise Company in Maharashtra'
The pioneering efforts of Pax Healthcare have brought the company to a good position in the past few years. Pax Healthcare ensures to provide the best quality products which are an effectively wide range and deliver what commits to associates. Our products are manufactured in fully integrated and advanced production units. Pax Healthcare focuses on the development and growth of the best and most effective formulations. The company provides the best PCD Pharma Franchise in Maharashtra, with its diverse medicinal range, free promotional tools, exclusive monopoly rights, and dozens of other benefits.
The company is continuously working on strengthening its brand image and products in order to be the best in the PCD Pharma Franchise business market. Our strong tie-ups with hospitals, healthcare centers, and doctors are good for our associates. Pax Healthcare delivers excellence in its business venture to investments. We value your money and provide the best opportunity along with mutual benefits for both parties. Starting a PCD Pharma Franchise in Maharashtra in collaboration with Pax Healthcare is a guaranteed way to achieve the heights of success.
Our Target Locations for PCD Pharma Franchise in Maharashtra
With a population of 112.4 million Maharashtra is one of the rapidly growing states. There are 36 districts in Maharashtra some are rural while some are developing rapidly like Mumbai. The Healthcare sector is improving in the state with the rise in the income of middle-class families. The demand for quality products is high and thus PCD Pharma Franchise business can be a good investment. All the locations are suitable for starting a PCD Pharma Franchise in Maharashtra and attracting a large crowd of customers.
Pax Healthcare will provide its Franchise district-wise with good monopoly rights. This will help our associates to increase sales by dealing with less competition. Pax Healthcare is the best pharma franchise company with the best business opportunity for all the pharma professionals across the country. The Company provides the best support and the right guidance that will help our partners to do really well in this industry.
Here is the list of some of our Target locations for the PCD Pharma Franchise in Maharashtra:
Mumbai
Mumbai Suburban District
Thane
Palghar
Raigad
Ratnagiri
Sindhudurg
Aurangabad
Beed
Jalna
Osmanabad
Latur
Nanded
Hingoli
Parbhani
Contact us today to get information about the vacant areas left for the PCD Franchise/ Pharma Franchise business. This is the best opportunity for pharma professionals to run their own business. Start your business with the top pharma franchise company and get the best support from our end. Pax Healthcare makes sure to deliver the best range of drugs to associates.
Mission and Vision of Pax Healthcare
Pax Healthcare aims to discover new and innovative products in order to improve the healthcare sector. Through our products or services, we deliver must deliver complete customer satisfaction. The Company is looking forward to achieving good success in the international market with an excellent research and development team.
The vision of Pax Healthcare is to be a leading player in the domestic as well as international pharma market. This will be achieved through high-quality, affordable, and innovative medicine and treatment. Being a top pharmaceutical franchise company in India Pax Healthcare delivers an excellent range of drugs to associates and customers for all unmet needs of the patients. Pax Healthcare is the best PCD Pharma Company to start a PCD Pharma Franchise in Maharashtra.
Benefits of Associating with Pax Healthcare for Pharma Franchise Business in Maharashtra
Pax Healthcare provides a number of benefits to its associates for starting a business in the pharmaceutical sector. The Company makes sure that all the associates get a high-quality range of drugs. Our pharma franchise associates rely on us and trust us with the best quality products. With the help of our best team of pharma experts, we manage to meet the expectation of the clients and deliver excellent services for starting a PCD Pharma Franchise in Maharashtra. Here are a few more things that make us best for the Pharma PCD Franchise business in Maharashtra:
Pax Healthcare provides its associates with good incentives on meeting the annual targets
With the newsletters, the company keeps associates well informed about all the latest launches and development in the industry.
Associates get all kinds of assistance and support from the company in order to establish their business.
We provide a good profit margin to our Franchise partners.
The company has 100% availability to stock all the time.
Free of-cost marketing and promotional backup
Ensured the best quality due to the quality assurance team
These are some of the things that will benefit Pharma Franchise partners if they associate with Pax Healthcare. Our company provides the best support and assistance so that both parties could grow the business and achieve success. All these key features make Pax Healthcare the best pharma company for partnership opportunities in starting a PCD Pharma Franchise in Maharashtra.
Variety of Drug Range at Pax Healthcare for Pharma Distributorship in Maharashtra
Our company has built a sophisticated infrastructure facility at premises which are spread over a wide piece of land. It helps us to deliver a variety of drug ranges such as :
Tablets
Capsules
Injections
Dry Syrup
Ayurvedic Medicine
Herbal Range etc
Apart from this, the company also provides exceptionally high-quality products which are highly segments wise like:
Ortho Medicine
Dental Medicine
Ayurvedic Products
Ophthalmic Range
Allopathic Range
Gynae Range
Pediatric Medicine etc
A diverse range of medicine available at Pax Healthcare makes the best company for the top PCD Pharma Franchise in Maharashtra. We meet the expectations of clients through our innovation and quality drove product portfolio.
Best Quality Assurance for PCD Pharma in Maharashtra
Pax Healthcare offers the best quality assurance for all its products. Our products are manufactured using the best quality raw material in highly built units. We use hi-tech machinery. All the products are stored in the germ-free zone. At our premises, we have maintained an eco-friendly environment. For us, hygiene is very important and quality is something that we cannot compromise. You can have complete faith in Pax Healthcare for starting PCD Pharma Franchise in Maharashtra.
Our quality department keeps a constant check at every level of manufacturing. The quality management team ensures to provide its associates with the best quality and wide range. Being the top pharma PCD franchise company in Maharashtra we are following all the international quality standards such as:
Cost-effective production
Accurate Composition
Quality Assurance
Reliability
Purity
Safety
Contact Information
Name: Pax Healthcare
Address: SCO-177, Top Floor
Sector 38-C, Chandigarh – 160036
Toll-Free Number: 1800-121-8583
Call Us: +91- 9216325808, 9216325807, 9317503300
Landline Number: 0172- 4371530, 4009952, 4009953, 4620244
Email: paxhealthcare@gmail.com
So, your search for the best Pharma company ends here with Pax Healthcare. We offer the best business opportunity and ensure that our associates get the best business deals. Join hands with the Top Pharma Company to set up a successful PCD Pharma Franchise in Maharashtra.