PCD Pharma Franchise in Rajasthan – Looking for top PCD Pharma Company in Rajasthan? Want the best quality range of products for the PCD/ pharma franchise? Pax Healthcare is a well-known manufacturer, supplier, and distributor of pharma products and medicines. Our company owns more than 300+ range of therapeutic and specialty drugs. All the drugs production takes place under WHO and GMP certified units. We have a franchise client base of more than 250+. We are expanding our business opportunities by the PCD pharma franchise in Rajasthan.
The pharma industry is growing strongly in the beautiful state of Rajasthan. Many pharma giants are planning to invest here for more business, you can start your business too by connecting with the best franchise company in India i.e. Pax Healthcare. Our company distinguishes itself by offering a great variety of pharma franchise for tablets, capsules, syrups, sachets, powders, etc. We are also offering a franchise for a specialized range of cardiovascular, ENT medicines, ophthalmic, critical care medicines, etc. By providing our PCD Pharma Franchise in Rajasthan we aim to expand the boundaries of our business.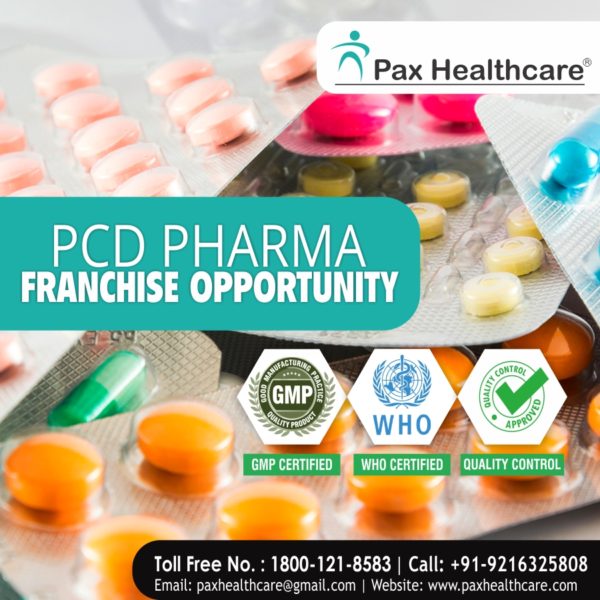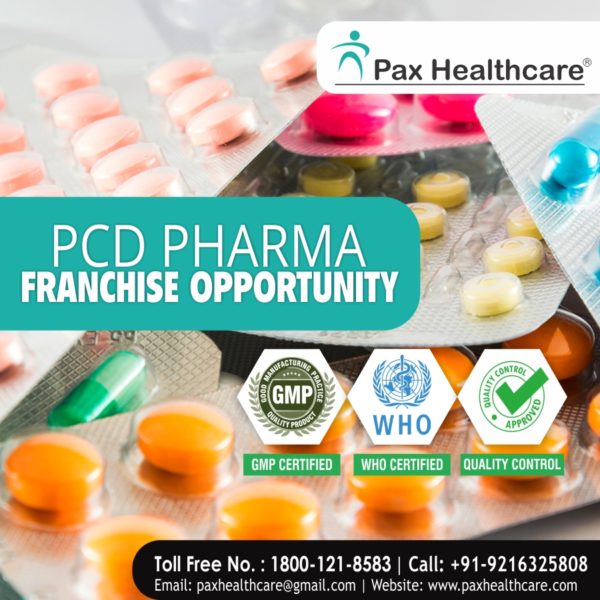 Choose Pax Healthcare to start your own business of the PCD pharma franchise in Rajasthan! Our company offers wide-area under your control on a monopoly basis. The deals are genuine and affordable in all the given districts of Rajasthan. Talk to our representative for PCD franchise and pharma franchise opportunities near your city or location. We assure you of a good experience working with us.
Top PCD Pharma Franchise Company in Rajasthan | Pax Healthcare
Pax Healthcare is a Chandigarh-based Pharma Company which is amongst the top PCD Companies in India. Our company has always delivered professional and reliable services of pharma marketing PAN India. We are destined to make a mark in the Land of Kings, Rajasthan. We have over 250+ clients working all over India. This has created a good demand for our products. You can be our franchise member in this state through the PCD franchise for Rajasthan, India. Here are the features of our company:
Our company is an ISO certified Pharma Company. We specialize in the manufacturing and marketing of various pharma services.
We have 4 manufacturing units set up in the eco-friendly and excise duty-free zones of Jammu & Kashmir and Himachal Pradesh.
The units are set up according to Schedule M. We religiously follow all the rules and guidelines of WHO and GMP. The best quality services are served by us.
The offers that we make are genuine and affordable to the needs of the clients and consumers. We try to provide a better output with the help of better techniques and technology.
Effective marketing strategies and promotional techniques are the backbones of our company. We make sure that the tools we provide for promotional are made using the best quality with the best attractive design.
Our company follows business rules ethically. Our deals are long-term and transparent. We assure you a good experience with us.
Pharma Sector Scenario in Rajasthan
Rajasthan has a vibrant future when it comes to the pharmaceutical industry. The government plans to initiate a healthy proceeding to upgrade the greater growth of the pharma industry here. Many MNCs like Mankind has invested in thousands of crores. Mankind proposes to invest Rs 100 crore to set up an active pharmaceutical ingredient (API) facilities.  Cadila is also investing huge as a project in Rajasthan. The Kaladwas Industrial Area of Udaipur has become an emerging growing for the Rajasthan Pharmaceuticals industry.
Benefits Of Starting PCD Pharma Franchise Business in Rajasthan With Pax Healthcare 
Rajasthan is the largest state in India. It acquires 10.4% of the total area. The Pharma franchise opportunity with Pax Healthcare offers you to excise exclusive rights over vast territories. Rajasthan is a perfect place to have the full benefits of monopoly rights in collaboration with the best PCD pharma company, Pax Healthcare.
Our company offers vast choices for PCD and pharma franchise opportunities like cardiovascular medicines, critical care medicines, ophthalmic, derma range, ENT medicines, etc. All the ranges are available at affordable per unit rate.
Apart from this here are few more benefits of investing in PCD Pharma Franchise business:
Pax Healthcare provides medicines that meet patients' requirements in terms of quality and prices.
Our business associates will get the best marketing and promotional support from our end to start their business successfully in the pharmaceutical sector.
We provide our associates with newsletters in order to let them know about the latest launch in the industry.
Moreover, with less investment and risk, you can earn a good profit margin.
Targeted Locations Of Rajasthan Offered For Pharma Franchise
Pax Healthcare is presenting genuine PCD deals in Rajasthan. Our company has made sure to cover all the cities and districts of this state. We assure you to provide a wide area under your control along with monopoly rights. We believe in the ethical way of proving good business. Here are the divisions and districts we are offering our PCD franchise plans in Rajasthan:
Ajmer: Ajmer, Bhilwara, Nagaur, Tonk
Bharatpur: Bharatpur, Dholpur, Karauli, Sawai Madhopur
Bikaner: Bikaner, Churu, Sri Ganganagar, Hanumangarh,
Jaipur: Jaipur, Alwar, Jhunjhunu, Sikar, Dausa
Jodhpur: Barmer, Jaisalmer, Jalore, Jodhpur, Pali, Sirohi
Kota: Baran, Bundi, Jhalawar, Kota
Udaipur: Udaipur, Banswara, Chittorgarh, Pratapgarh, Dungarpur, Rajsamand
The Advantages of taking Pharma Franchise Business in Rajasthan
Franchise business has become the trending one. In which everyone wants to invest. It gives you the following benefits:
A chance to become your own boss
Good business opportunity
Low Investment
Career Growth
Scope is high
Work within the city etc
Top Pharma Franchise company Pax Healthcare is looking forward to associating with the leading pharma professionals and provide them with the best business opportunity. We ensure to provide a wide range of high-quality drugs along with all sorts of support and help to grow their business successfully under our brand name.