PCD Pharma Franchise in Odisha – Pax Healthcare is the well-known name in the pharma industry for a top Franchise business. It is the ISO Certified pharmaceutical company in India that manufacture & supply pharma products in all over India.  The company provides GMP & WHO certified pharmaceutical products at affordable rates. Now the company is looking forward to expanding its presence in India and thus, offering its Franchise opportunity in all over India.  And Odisha is main target destination of the company for Pharma PCD Franchise business. So if you have the plan to get pharma franchise in Odisha then it's the best business opportunity for you. 
We are welcoming to all Pharma experts & distributors in Odisha to Join Pax Healthcare to become our franchise partner. We are offering a monopoly based franchise deals that will include all kind of free promotions tools, no huge sale target, WHO certified products. So if you want to get our Product & Price list for the franchise then Contact us at our toll-free number 1800-121-8583, 9216325808 or email at paxhealthcare@gmail.com.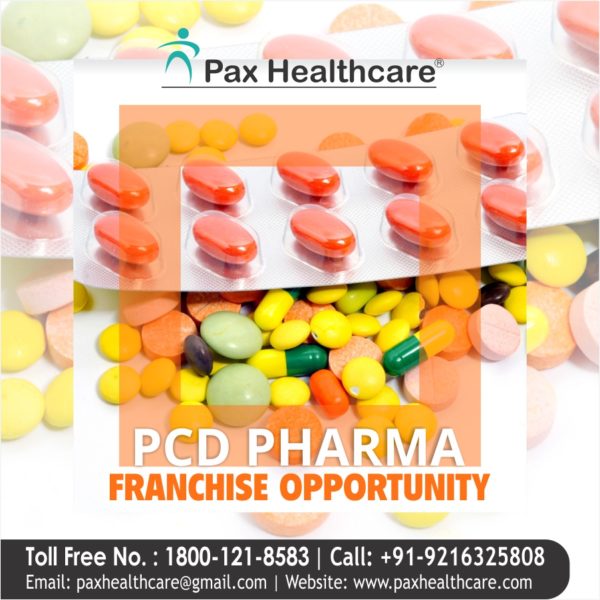 Top PCD Pharma Franchise Company – 'Pax Healthcare'
Pax Healthcare is Chandigarh based leading Pharma Company in India. Established in the year 2008, the company has made its good position in the market in a very short span of time. We are involved in the manufacturing, trading, exporting, supply, marketing and third-party manufacturing of the brand drugs. Our formulations are huge in variety and best in quality. Pax Healthcare ensures the best quality of all products.
Pax Healthcare works with a team of best pharma experts. Our team is rich in experience and well qualified in their field. Our research and development team provide us with new and innovative drugs which are effective on a regular basis. Pax Healthcare is one reliable name among the associates for PCD Pharma business. Associate with the top pharma company and start your own successful business.
Target Location in Odisha for PCD Pharma Distributorship Business
Pax Healthcare provides the best business opportunity for the people of Odisha. The company is offering its Pharma Distributorship in all the vacant districts of this state. Therefore, if you have a dream to have your own business in the pharma industry then this is the best opportunity for you. Pax Healthcare is looking for the dedicated pharma professional, pharma distributors, medical representatives, and other entrepreneurs who are interested in having their own business. We will provide the best monopoly or distribution rights to our associates.
With the help of these monopoly rights, you will be able to increase the sales in your territory. Our monopoly rights are unique and help big time in reducing eh competition for our associates in their area. Mentioned below are the targeted districts for Odisha based Pharma Distributorship:
Balangir
Jajpur
Nuapada
Baleswar
Khordha
Puri and all other districts.
The Scope of Pharma Distributorship in Odisha.
Pharma PCD franchise is booming very well in India. And, Odisha is the main state of India for Franchise business. The healthcare sector of the state is growing day by day. The number of pharma companies is expanding their business in Odisha.  The demand for the high-quality affordable drugs is very high and thus, the PCD Pharma Franchise business is flourishing well in order to meet those demand.
The government is also supporting the pharmaceutical industry to improve the healthcare sector. The PCD franchise business is providing a great business opportunity. Moreover joining hands with the top pharma PCD franchise company will give you an upper hand in the pharma industry. For a pharma professional or a newcomer, there is a great scope of a franchise in Odisha
Quality Assurance and range of formulations at Pax Healthcare for Pharma Franchise
Pax Healthcare makes sure that customers get the best quality formulation from the company. The company has a quality management team that looks after the quality of products at every stage of the production. Our raw materials are supplied by the best vendor in the industry. We make sure that our drugs are safe, effective and match the international standard. The products that we provide comes with lesser side effects.
Here is our range of products for a franchise in Odisha:
Antibiotic,
Antifungal,
NSAIDs,
Gastrointestinal,
Anthelmintic,
Cardiovascular,
Dermal,
Erectile Dysfunction, and a lot more
Why choose Pax Healthcare for PCD Pharma Franchise in Odisha?
Associates trust us or rely on us for the ethical PCD pharma business practice, for high-quality drugs with the best quality and support for marketing and many other things. Pax Healthcare has a huge market reach and a good customer base.
By working professional and ethical in the industry since 2008 the company has won the trust of many doctors and health professionals. We provide the best support to our associates and make sure that get the growth opportunity.
Here are some more advantages of choosing us for PCD business:
Pax Healthcare is a well-certified pharma company and drugs are manufactured by using the best quality raw materials.
Our products are affordable as they are manufactured in the excise duty-free zone.
The company has a good transportation network and thus, delivery all the products on time at any part of the country.
New products are regularly added to the product portfolio.
We provide the packaging with the best quality so that the products could get a long shelve life.
The company provides a good promotional backup to its associates in order to have a great impression on the doctors. This also helps in beating the competition. Associates get the promotional kit that includes the promotional tools.
Key-benefits of Associating with Our Company in Odisha
Pax Healthcare is a customer-centric franchise Company in India. The company meets the expectations and requirements of healthcare professionals PAN India:
We provide you annual incentives at the time you meet the target.
We also provide you with a variety of  promotional kits and inputs to our customers
All the marketing costs will be provided by the company only.
These are the advantages which you can avail by collaborating with us. Now, this is a great business opportunity for Odisha People.
Contact Information
Name – Pax Healthcare
Address – SCO-177,Top Floor
Sector 38-C, Chandigarh,160036
Phone Number – +91- 9216325808
Email Address – paxhealthcare@gmail.com
Collaborate with the top PCD Pharma Company in Odisha and work independently in your region. Our Company offers high quality medicines which are available at affordable prices. Be the part of leading Pharma PCD Franchise Company in Odisha, Pax Healthcare. We are looking for pharma professionals who can work along with us and help us to grow well in the industry.