PCD Pharma Franchise in Meghalaya – One of the top pharma franchise companies in India Pax Healthcare Welcomes you. We are engaged in the manufacturing, marketing, and third party manufacturing if the generic drugs in India and other others as well. The company is 1SO 9001:2008 certified and has got important certifications like WHO and GMP. We are looking forward to expanding our presence in India and thus offering Monopoly based PCD Pharma Franchise in Meghalaya.
Pharma Franchise business is growing well in India due to the high demand for generic drugs. This business has a lot of benefits that is why many are investing in this sector. According to experts by the end of 2020, the pharmaceutical industry is expected to grow by 15% which will affect the growth of PCD business in a good way. Pax Healthcare is providing you with the good opportunity to start your own business by associating with the leading pharma company in your own city. Get our PCD Pharma Franchise in Meghalaya and be the part of our business venture.
For more details, you can give us a call at +91- 9216325808. Else you can drop a mail at paxhealthcare@gmail.com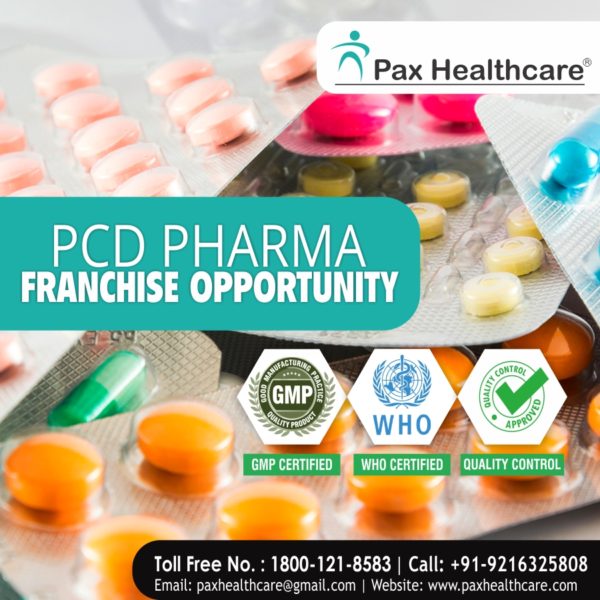 Top PCD Pharma Franchise Company  – Pax Healthcare
Pax Healthcare is considered as one of the best pharma company for PCD business. The company was established in the year 2008 and growing well since then. We have good manufacturing facilities and infrastructure along with all the latest technology and machinery. The products under our brand are high in quality and effective too. We make sure to provide our associates with the latest formulation according to industrial requirements. With the help of our R&D experts, we provide new and innovative products.
You will get international standard quality products as the company also export the formulation in other countries. Best quality for all the products is assured from our end. Pax Healthcare provides the best monopoly rights to its associates which help them to well in their territory. Our franchise partner gets the best support and assistance from company to get established in the market.
Target location for PCD Pharma Franchise in Meghalaya
In order to expand our presence in northeast India, we are offering our Pharma PCD Franchise in Meghalaya. We are offering franchise in all the vacant places in the state which include every district. This is the best opportunity for medical representatives, pharma distributors, stockiest and other people to start a business in the pharma industry. The scope for the growth is high in Meghalaya for PCD Pharma business.
Here is the list of our PCD Pharma Franchise in Meghalaya-
Jaintia Hills Division:
West Jaintia Hills (Jowai)
East Jaintia Hills (Khliehriat)
Khasi Hills Division:
East Khasi Hills (Shillong)
West Khasi Hills (Nongstoin)
South West Khasi Hills (Mawkyrwat)
Ri-Bhoi (Nongpoh)
Garo Hills Division:
North Garo Hills (Resubelpara)
East Garo Hills (Williamnagar)
South Garo Hills (Baghmara)
West Garo Hills (Tura)
South West Garo Hills (Ampati)
Why choose us for Pharma Franchise?
Our PCD franchise is ideal for the newcomers as we provide best services to our associates. The company believes in mutual benefits and thus we make sure that our associates get the best support from our side to grow their business. We deal transparently for better business and understanding that helps us in having a good partnership with our associates. We have the good customer base and this will also benefit our Pharma Franchise, partners.
Mentioned below are some more advantages of choosing us:
We are certified by the WHO and GMP.
Manufacturing at an excise duty-free site.
All the products are delivered on time with the best quality packaging.
Get access to the latest molecules
We provide all the information about all the latest launches and trends in the pharmaceutical industry to keep you updated.
Pax Healthcare provides the huge range of formulations which are safe, effective and affordable.
Our Products and quality assurance
We offer the huge range of high-quality pharma formulations that are manufactured by using the best quality and hygienic raw materials and chemicals. All the products under our brands are manufactured under the observation of quality assurance team who keeps a good check on the quality at every level of manufacturing. Our products cover the categories like Antibiotic, Antifungal, NSAIDs, Gastrointestinal, Anthelmintic, Cardiovascular, Dermal, Erectile Dysfunction and a lot more.
We make sure that all our products are manufactured in the certified lab. Our products are exported to other countries and thus we make sure to provide our customers with the best quality and effective drugs. The products range from Antibiotics, Anti-infective, Pediatric, Health Supplements, Cardiology, Diabetology to Gynecology.
Here is our product portfolio:
Injections
Tablets
Capsules
Syrups
Liquids
Drops
Topicals
Dental
Sachets
Protin Powder
Eye Drops
Be the part of leading Pharma Franchise company in India and start your own business. Pax Healthcare will provide you with the best opportunity and mutual benefits. All ethical and transparent dealing. Be our Pharma Franchise partner and be your own boss.
Contact Information
Name – Pax Healthcare
Address – SCO-177,Top Floor
Sector 38-C, Chandigarh,160036
Phone Number – +91- 9216325808
Email Address – paxhealthcare@gmail.com