PCD Pharma Franchise in Manipur – If you want to start your own business in the pharmaceuticals by associating with the top pharma franchise company then you are at the right place. Pax Healthcare is a leading pharma franchise company that is known for providing high-quality drugs and ethical PCD Pharma Franchise business opportunities all over the Country. The Company is involved in the manufacturing, marketing, third-party manufacturing, and exporting of pharmaceutical drugs. Pax Healthcare is now providing its PCD Pharma Franchise in Manipur in order to expand its presence in the northeast.
PCD Pharma Franchise is becoming a favorite choice among pharma professionals. People are investing in the franchise business for earning high-profit with a huge success rate. Pax Healthcare provides you with the best business opportunity by offering its PCD Pharma Franchise in Manipur.
Start your business with us and get the branded drugs manufactured in ISO 9001:20008, WHO, and GMP-certified production units. Pax Healthcare provides a wide range of drugs with assured quality at the most affordable prices. Contact us today and get the product details and verify the vacancy in your area for the Pharma PCD Franchise business.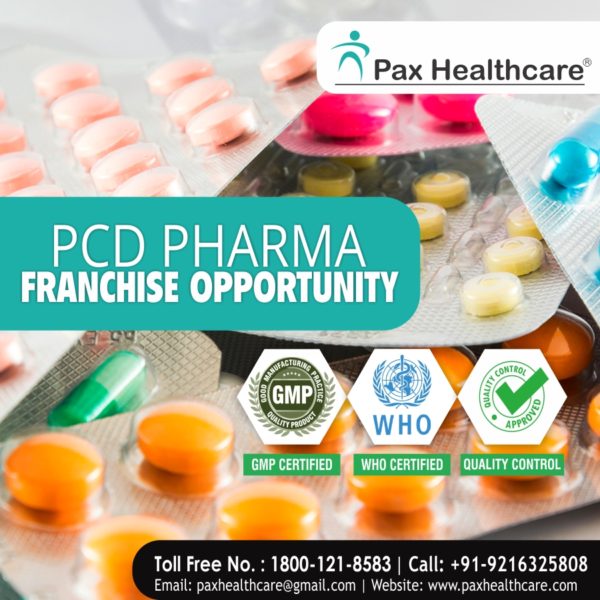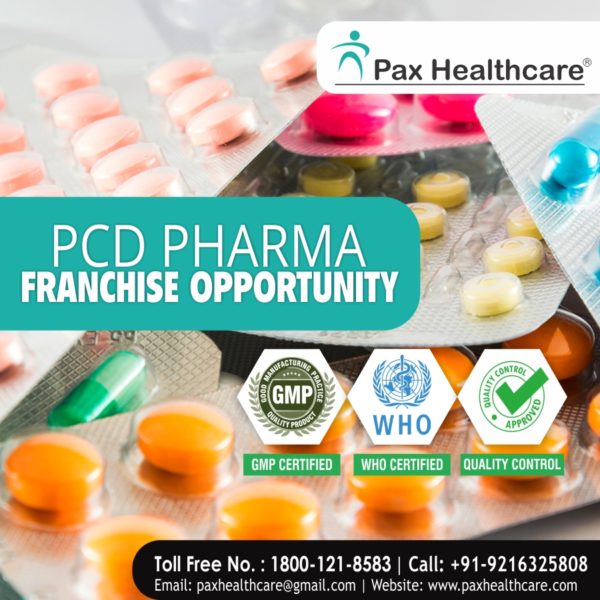 Pax Healthcare has robust manufacturing facilities that make the company capable of manufacturing a high-quality range of medicines at affordable rates. Our quality and price attract healthcare professionals and we have managed to win their trust over the years by delivering an effective range of medicines.
The Scope Of The PCD Pharma Franchise In Manipur
The demand for quality pharma drugs increasing in Manipur is vast and exciting. People want to get high-quality and affordable pharma products to heal their diseases. The government is engaging to improve the infrastructure of healthcare in Manipur by investing in healthcare facilities, hospitals, clinics, and pharmacies. Due to this people can tale medical services at a low cost, and it also creates a PCD Pharma Franchise environment. Manipur is a state which offers scope to start a pharma business because of its geographical location which makes it the first choice for pharmaceutical professionals. Additionally, with PCD Franchise services neighboring states can also take benefit from the best pharma products, and these States include Nagaland, Assam, and Mizoram.
Untapped market potential makes this state the best place to start a new pharma business, because of this any person or investor can gain more profit by tapping into this continuously growing market. In Manipur, there are both types of areas urban and rural, and many places did not get access to medications, and these areas need investors for new startups for the availability of important pharma medicines.
Many factors show the scope of a PCD franchise company in Manipur, and these include the increasing demand for quality healthcare, limited availability of quality pharmaceutical products, expansion opportunities to remote areas, growing healthcare infrastructure, collaborative government initiatives, and the potential for regional expansion.
Associate With Pax Healthcare For Wide Product Range For PCD Pharma In Manipur
Pax Healthcare provides the products which are the best in quality. The Company provides the best brands in pharma drugs which cover various categories like  Antibiotics, Anti-infective, Pediatric, Health Supplements, Cardiology, Diabetology, Gynecology, and many others. Our products are best in terms of purity, safety, effectiveness, and surely quality. Products manufactured at Pax Healthcare have lesser side effects than any other products, this is because our research and development team works hard in providing our customers with quality formulations.
Antibiotics, Antifungal, NSAIDs, Gastrointestinal, Anthelmintic, Cardiovascular, Dermal, and Erectile Dysfunction are the few best products available to us, we have a range. Pax Healthcare has more than 1200 associates all over the country who take these formulations from us. Associate with us and get a great profit margin on each product and start your very own business successfully.
Target Locations For PCD Pharma Franchise In Manipur
Here is the best business opportunity for the people of Manipur, be part of the top pharma franchise company Pax Healthcare and start your own business. The Company is offering its PCD Franchise and Pharma Franchise in all the vacant districts of the Manipur state this is the best opportunity for you to be your own boss. If the investment is low one can easily start the business. The company will provide you the monopoly rights as well which will help you in working freely without competition in your area.
Here are the targets Locations for Pharma PCD Franchise in Manipur:
Bishnupur
Chandel
Churachandpur
Imphal-East
Imphal-West
Senapati
Tamenglong
Thoubal
Ukhrul
Kangpokpi
Tengnoupal
Pherzawl
Noney
Kamjong
Jiribam
Kakching
Talk to us to know more about the vacant location in your region. At Pax, we deliver what to commit to our associates. Our Franchise partners in Manipur will get the best support from our end to establish their business successfully in the industry.
Quality Norms and Guidelines Followed By Us
The team of Pax Healthcare is completely dedicated to providing the best quality products. We have hired the quality department team who are experts in maintaining the quality of the products. Our team keeps a constant check at every level of manufacturing. The company utilizes fine active ingredients and rich resources that are supplied by the best vendors. Below are some of the quality norms that we met during the production that is:
Cost-effective production
Accurate Composition
Quality Assured
Reliability
Safety and Purity
Since the start, we have been following the company's terms strictly. We maintain the decorum of the office premises. Moreover, The flawless drug range makes us a prominent firm amongst all.
What makes Pax Healthcare Best for PCD Franchise in Manipur?
Pax Healthcare is a Chandigarh-based Pharma Franchise Company fully integrated with the best infrastructure and high-tech equipment and technology for the production of drugs, and this is best for the PCD Pharma Franchise business the company provides its associates with all the necessary support essential for establishing the pharma franchise business. At Pax Healthcare, the best team of pharma experts are working to provide us with international standard quality products.
Here are the things that make us best:
Pax Healthcare provides products that are manufactured in WHO and GMP-certified production units. All the manufacturing takes place in the germ-free zone.
The Company provides quality assurance to its pharma franchise partner and makes sure associates only get quality products.
All the associates have kept updated with the latest development and launch in the company in the pharmacy industry with the help of a new letter.
The Company ensures that associates get quality packaging and on-time delivery for all products.
These are the things which just not make our company the best for a Franchise in Manipur but also provide you with a number of opportunities to deal with a wide range of products in your region. Be our associates and get the exclusive range of drugs. Franchise in Manipur for PCD Pharma is the best business option for the pharma professionals
Contact Information For Getting More Information
Address – SCO-177,Top Floor
Sector 38-C, Chandigarh, 160036
Contact Number – +91- 9216325808
0172-4620244
Email Address – paxhealthcare@gmail.com