PCD Pharma Franchise in Madhya Pradesh – Pax Healthcare is among the top leading pharma franchise companies in India. The company is ISO 9001:2008, WHO and GMP certified and involved in the manufacturing, export, and marketing of branded drugs all over the country and in other countries as well. Our products are manufactured under the strict check of a quality management team and available at the affordable prices. Pax Healthcare is looking forward to expanding its presence pan India and thus offering its PCD Pharma Franchise in Madhya Pradesh.
Those who are keen to start their own business in the pharmaceuticals, it is the best opportunity for them to be part of a leading pharma franchise company. Due to the high demand for quality pharma products, PCD Pharma Franchise business is flourishing quite well all. The government is also encouraging the pharmaceutical industry so that people could get quality yet affordable products easily. PCD Pharma Franchise in Madhya Pradesh by Pax Healthcare is the best opportunity for the newbie, pharma professionals, and entrepreneur to invest in. Get all the support and necessary help from our end.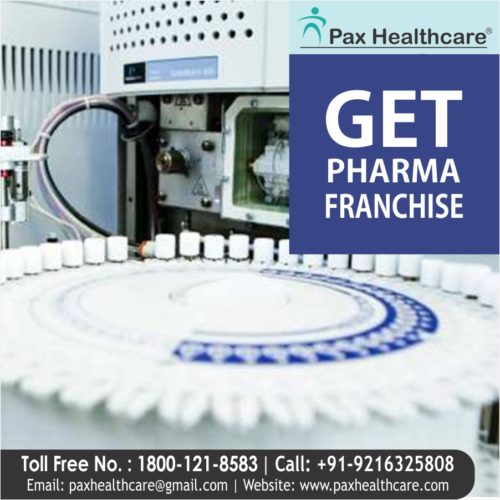 For further details regarding PCD Pharma Franchise business in any part of the country, you can call us at +91- 9216325808. We will be looking forward to hearing from your end.
Top  Pharma Franchise Company in Madhya Pradesh – 'Pax Healthcare'
Pax Healthcare is a well known and established pharma franchise Company based in Chandigarh. The company was established in the year 2008 in this span of time we have made our prominent position in the market. We are equipped with the latest technology and machinery which support us to manufacture the international quality standard pharma products. Our state-of-art manufacturing facilities and advanced research and development team makes us best in our work and help us to strengthen our presence in this competitive sector.
The Company has a high-tech unit and good storage space that ensure the best quality of products even after manufacturing. We are supported by the best team of pharma experts in the industry. Our experts are of high quality and experienced in their work and provide us with innovative and effective drugs. Pax Healthcare is the best option to invest your money in Madhya Pradesh based Pharma Franchise.
What makes Pax Healthcare best for Pharma Franchise business in M.P?
We are considered as one of the best pharma company when it comes to PCD Pharma Franchise. The company associates across a country that is getting good revenue by associating with us for Pharma Franchise. Here are things that make us best for pharma PCD business:
Our team: At Pax Healthcare we have the team of best experts and staff working with us. Our staff and pharma experts are rich in experience and qualified in their work. Associate will get the best support from our team. Our team enables us to provide new and innovative products to our associates regularly.
Promotional Backup for Franchise in MP: We under the market and level of competition for our pharma franchise partners and thus the company provide them the best marketing and promotional backup at free of cost. Our marketing experts make the best strategies. We provide the promotional kits to our associates which contain the promotional tools like Visual Aid, Working bags, Visiting cards, Small gift articles, Diaries, Writing Pads, Covers of catch, Reminder cards, Brochures, and product cards.
Quality Assurance for PCD Pharma in Madhya Pradesh: The Company ensures the best quality for all the products and thus offer high-quality formulations. Our products are manufactured by using the high-quality chemicals supplied by the best vendor in the industry. We have the quality management team that keeps check on the production process and make sure that only the best products get to the customers.
Get Manifold Range of Pharma Drugs At Pax Healthcare
Pax Healthcare is the emerging pharma company in India that is indulged in providing a wide range of pharma products and medicines. We provide dosage formulations in all the pharma segments such as pediatric, cardio-diabetic, gynecology, orthopedic, derma, general range, critical care, etc. Below is the product portfolio of our company:
Tablets
Capsules
Injections
Syrups
Sachets
Oral suspensions
Cream
Lotions
Ointments
Dry Syrups
Drops etc.
Target Locations for PCD Pharma Franchise in Madhya Pradesh
The scope for the PCD Pharma Distributorship is good in India. It is a rapidly growing sector which provides a good growth opportunity. Pax Healthcare invites all the pharma professionals, Pharma distributors, medical representatives, and another entrepreneur to associate with us. The company is offering its franchise in all the vacant districts of Madhya Pradesh.
Associates will get the best monopoly or distribution right to do well in their territory. As such Pax Healthcare is the best monopoly pharma company in Madhya Pradesh. Our team will assist them throughout the process. Be the part of top pharma Franchise Company in India and get good profit from your business.
Here are our target locations for Pharma Franchise in Madhya Pradesh:
Chambal
Gwalior
Indore
Jabalpur
Narmadapuram
Rewa
Advantages of choosing Pax Healthcare for Pharma Franchise business in Madhya Pradesh
Transparency in our work is what makes us reliable to our associates. We practice ethical PCD franchise business and ensure mutual benefits. Pax Healthcare provides high quality and best product range and provides high quality.
Here are some of the advantages of choosing us for PCD Franchise business:
Manufacturing at excise duty-free zone
High-quality products at affordable products
Get the best support from our end to establish your business
Good monopoly rights
Efficient products with quality packaging and on time delivery.
Good incentives.
Free of cost promotional Support
Monthly promotional schemes
Newsletters to keep associates up to date regarding new updates in the Pharmaceutical sector.
Use the below-mentioned contact details to reach us. We are always able to provide you with our valuable assistance. We have made a separate cell in our company, which is responsible for attending customer's call in the most efficient manner. They remain active to attend your call and give a response.
Contact Information
Name – Pax Healthcare
Address – SCO-177,Top Floor
Sector 38-C, Chandigarh,160036
Phone Number – +91- 9216325808
Email Address – paxhealthcare@gmail.com