PCD Pharma Franchise in Ludhiana- PAX Healthcare is one of the best Pharma companies in India and we have ensured various facilities provided in our infrastructure with a team of skilled professionals and researchers who work their souls out to provide better health care to the people of India. We have 1200+ distributors who deliver our products all across PAN India.
We are one of the fastest-growing pharmaceutical companies in India as we already have received certain awards on our journey one of them being Udyog Patra Award. Our company is an ISO 9001:2008 certified Pharmaceutical Company and we have a wide range of products – Antibacterial, Anti-Inflammatory, Diabetic, Gynae, Dental Health, etc. We have a good reputation in the market and between customers. Most of our products are being preferred by medical professionals to the patients and we further like to expand the range of our products in every region of every state so that we can provide people better healthcare.
We are providing various opportunities for the PCD Franchise business and we are especially looking for those individuals who are good in sales and marketing. We are one of the best Pharma Franchise company in Ludhiana and if you want to join our company for a better future in this business, then don't hesitate you are just a call away.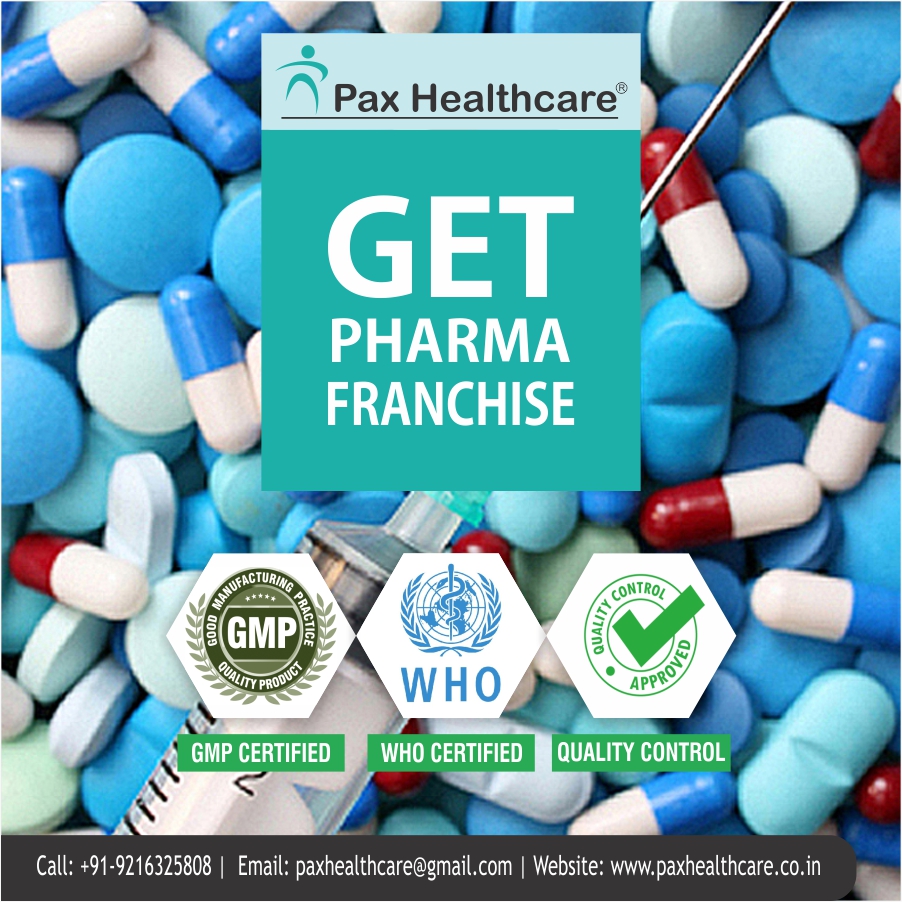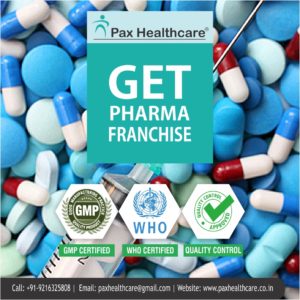 Call us at- +91-9216325808 otherwise mail us at- paxhealthcare@gmail.com
Extensive Range of products offered by PAX Healthcare in Ludhiana
Our first aim Pharmaceutical business is to provide quality medicine to everybody and for that, we have various accreditations and approvals from various reputed organizations such as ISO, FSSAI, WHO&GMP. When we have permission from these organizations it means that every product we manufacture is safe to use and of the best quality. Now we have a very wide range of products as we have 1200+ distributors across India and our product portfolio deals in various specialties that includes
Anti-Infective
Neuro-Psychiatry
Diabetes
Dermatology
Cardiovascular
Urology
Anti-Biotics
Analgesic
Nephrology
Anti-Fungal
Anti-Allergic
Anti-Malarials
Ortho Specialists
Derma Products
Opthal Products
Now our product portfolio deals with
Tablets
Capsules
Liquids
Dry Syrups
Drops
Topical
Dental
Sachets
Protein Powder
Eye Drops
Injections
Ayurvedic/ Herbal
Monopoly Based PCD Pharma Franchise in Ludhiana
PAX Healthcare provides associates with an opportunity to work with less competition around them so that they own the sole proprietorship of the area and also work as a primary seller of medicine in the territory. It creates less pressure on the associate as the whole area is under his/her supervision and whenever the supply is needed, he can deliver it to the retailer or the medical facilities.
PAX Healthcare is mostly demanding those who are interested in sales and marketing as it will flourish their opportunities while working with us. We are providing various facilities and with an extensive range of our product we will deliver supply with 2-4 days during the time of dispatching and there will be an eco-friendly environment.
Why Should You Choose PAX Healthcare as your business franchise in Ludhiana
With an experience of over a decade and with a reputation as one of the leading pharmaceutical companies in Ludhiana, we don't want to ruin that reputation. We have with ourselves the best personnel with tons of experience in Pharma Field and with our R&D team, we have produced new molecules each month so that our associate will get a fresh and new supply of the products and he will get profits easily. We look for mutual benefits while working with an associate, we like to give them maximum profit in the business, and in return, we want to expand our business and increase our reputation in the market.
Objectives of PAX Healthcare:-
Produce High-quality medicine and drugs
Packaging of best quality with temper proof and leak-proof facility
Latest Technology for new medicines
Enriching our product's portfolio by linking with our customer's feedback and market demands
Key Benefits provided to our associates in PCD Pharma Franchise
With a business opportunity in PCD Pharma Franchise from us, we would like to show you some of the key benefits that we offer to our associates:-
We are there for you every time whenever support is needed from our end
We would customize the price of products when it subjects to bulk purchasing
We offer all the products at competitive prices so that there is mutual benefit amongst us.
Our products are approved by DCGI, FSSAI so there is a wide variety of products at our end and supply won't be limited
Unique monopoly rights
We will provide you with various promotional tools such as visiting cards, company literature, MR Bags, Invitational cards, sample and visual aids, notepads, calendars, etc.
We are one of the top leading pharmaceutical company in Ludhiana and if you are looking for a business opportunity in the PCD franchise business then you are one call away
Contact Information:-
Name:- PAX Healthcare
Address:- SCO-177, Top Floor Sector 38-C, Chandigarh- 160036
Contact No:-  91-9216325808
E-Mail:- paxhealthcare@gmail.com