PCD Pharma Franchise in Arunachal Pradesh – Pax Healthcare has emerged as the Top Pharma Franchise Company in recent times. The company is ISO 9001:2008 certified with state-of-art manufacturing facilities. All the products are manufactured in the WHO and GMP certified production unit. All above, the company has R&D Centres and has received the UDYOG PATRA AWARD. Further, we offer more than 200 formulations and serve around 1200 health professionals across the country. We are looking forward to expanding our presence. Therefore,  offering our PCD Pharma Franchise in Arunachal Pradesh.
We welcome all the pharma experts and dealers who are looking for starting their own business in the pharmaceutical sector. Pharma PCD Franchise is very popular and getting a lot of attention lately. With the rise in the demand for generic drugs, the scope and opportunity in this sector have increased. Our PCD Pharma Franchise in Arunachal Pradesh provides you with an opportunity to be part of a leading pharma company.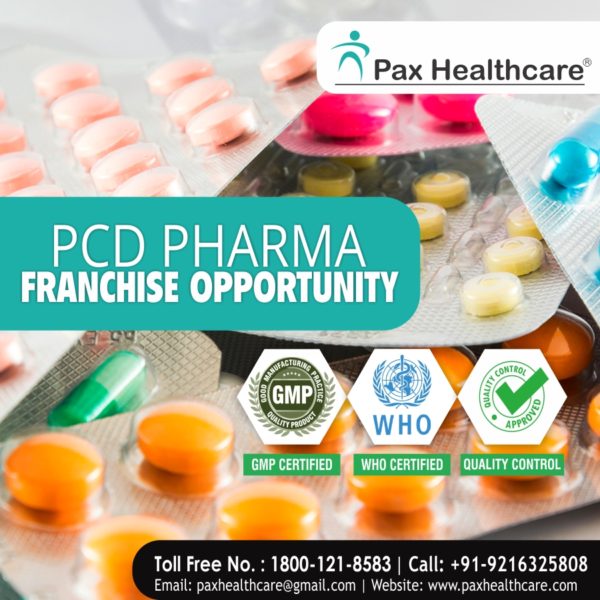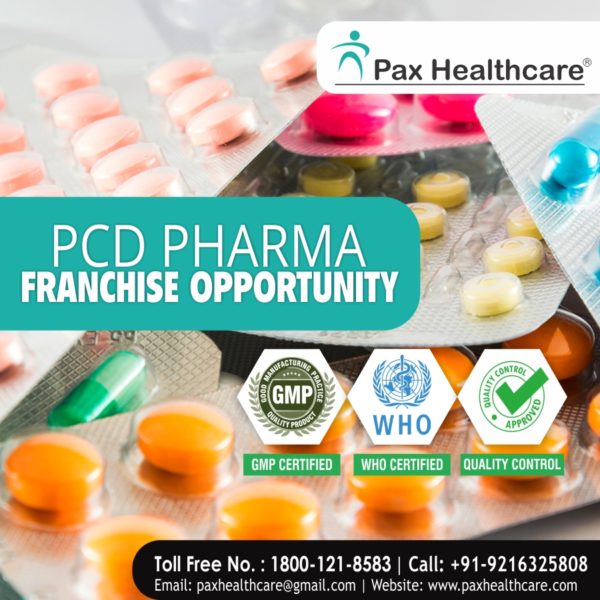 For more detailed information about the pcd pharma franchise in Arunachal Pradesh, call us at +91- 9216325808 & email at paxhealthcare@gmail.com
Top PCD Pharma Franchise Company in Arunachal Pradesh – Pax Healthcare
Pax Healthcare is a Chandigarh-based pharmaceutical company engaged in the manufacturing, marketing trading, and supply of formulation all over the country. This company is specialized in manufacturing high-quality drugs along with research and development. In addition, we are a research-oriented company focused on manufacturing the specialty segments to provide advanced drugs that help us in constant growth.
Furthermore, the company has emerged as one of the leading PCD Pharma Franchises in Arunachal Pradesh recently. We aim to provide the community with the best quality pharma products so that they can lead a healthy life. Everyone can get access to our products as they are available at affordable prices. So, associate with us for a better future in the pharmaceutical industry and to expectancy good growth.
Requirements for Obtaining Pharma Franchise in Arunachal
Pax Healthcare wants to provide a world-class healthcare formulation to people who are in need. Our team of R&D works very hard in providing us with life-saving drugs. The company is highly appreciated for manufacturing drugs with assured quality. Additionally, we provide the best business opportunity to all our pharma franchise partners to grow their business well.
Here are the things that we are looking for:
Firstly, we are looking for pharma franchise partners who have the skills in selling pharma drugs.
Secondly, we are looking for long-term retail business relations with the associates and thus, offering the best monopoly rights and offering its Pharma Franchise in all the districts of Andhra Pradesh.
Thirdly, you need to have a drug license and TIN of your own or your stockist then you can apply for our PCD Pharma Franchise in Arunachal Pradesh.
Lastly, one should have Pharmaceutical working Experience as an M.R, Area Manager or Regional, Territory Manager, etc.
If you are willing to start your own business in the pharma industry with the best growth opportunity then this is the best chance for you. Associate with us and get the support and assistance in establishing your business. PaxHealthcare is the top leading pharma franchise company and the best for your professional growth.
Associate with the Best PCD Pharma Franchise Company in Arunachal Pradesh
Pax Healthcare is considered best for the PCD Pharma Franchise Company in Arunachal Pradesh. It is due to the facilities that it provides to its franchise partners. We provide all-time availability of all the products. Also, we ensure on-time delivery of pharma medicines. Our associates trust us for our services and formulations.
Here are some more things that make us best for PCD Pharma Franchise in Arunachal Pradesh:
Packaging and delivery – We provide the best quality packaging and timely delivery for all our formulations so that our franchise partners do not face any kind of trouble. We make sure to provide better courier services and transportation in order to reduce the cost. Our associates can track their order with the help of Docket No.
Our products – Company provides a wide range of formulations that covers the major segments like Antibiotic, Antifungal, NSAIDs, Gastrointestinal, Anthelmintic, Cardiovascular, Dermal, Erectile Dysfunction and many others all over the country. All the products are manufactured in the GMP and WHO-certified production plants. The company has four manufacturing units all are certified. Products come with minimum side effects and that is why they are safe and effective.
Quality Assurance – The quality of our products is the most important for us. We ensure that all our PCD Pharma Franchise in Arunachal Pradesh partners get high-quality formulations from our end. Our quality management team keeps strict supervision on the quality of each and every product. We use the best raw material and once the production is done we again check the quality of formulation. Once we are done with the quality testing we approve the product for dispatch.
Therefore, these are some of the best things about Pax Healthcare. We make sure that all our associates get the best support from our end. Further, Pax Healthcare delivers what it commits. The excellence in our service and the quality of our products differentiate us from the rest.
Available Locations in Arunachal Pradesh for Pharma Franchise
Pax Healthcare offers the best business opportunity to the people of Arunachal Pradesh. The company is offering its PCD Pharma Franchise in all the districts of Arunachal Pradesh along with exclusive monopoly rights. Moreover, we invite all the medical representatives, pharma experts, distributors, and other pharma dealers. Every interested medical personality can associate with the leading pharma franchise company in India. So, start a successful business venture without any further delay.
Target Locations for PCD Pharma Franchise in Arunachal Pradesh:-
Changlang District.
Tirap District.
Anjaw District.
Lohit District.
Upper Dibang Valley.
Lower Dibang Valley.
West Siang District.
East Siang District.
We are looking for hard-working and those who are keen to start their own business in the pharmaceutical sector. Those who are looking forward to starting the business should be responsible enough to start a business by using our brand name.
Benefits of Joining Pax Healthcare: Leading Pharma Franchise Company
Pax Healthcare is the best option for the PCD Pharma Franchise in Arunachal Pradesh. Wondering why? Here are the things that make us best and will benefit our Pharma Franchise partners as well:
Our Team: We have a team of experts. It helps us with solving all your queries really fast. In addition, it helps us in manufacturing highly effective and branded drugs. So, contact our team easily for any kind of doubt.
Transparent dealing: We provide all kinds of information regarding products and the latest development to our pharma franchise parts. As a result, we can build a great partnership and trust between both parties.
Latest molecules: The Company concentrates on providing the latest molecules. Also, the molecules, which are in trend and demand in the industry. All above, our pharma products are new and innovative.
Timely Delivery of Products: We are the top pharma PCD franchise company in Arunachal Pradesh committed to providing on-time delivery of products. Our wide distribution channel helps us to deliver the products all across the nation.
If you are an individual, career seeker, or business aspirant that is seeking an incredible business opportunity to enter the pharma sphere, connect with us. We offer PCD Pharma Franchise in Arunachal Pradesh on a monopoly basis at affordable prices. To know more deets, contact us via the below-listed contact details.
Contact Information
Name – Pax Healthcare
Address – SCO-177,Top Floor, Sector 38-C, Chandigarh,160036
Phone – +91-9216325808, +91 9216325807, 9317503300
Email – paxhealthcare@gmail.com