PCD Pharma Franchise in Ankleshwar – Pax Healthcare has the highest certifications from organizations like FSSAI, DCGI, and FDA. The company is well known for its high-quality pharmaceutical products with excellent quality. Pax Healthcare is an established brand in the Pharma sector venturing to open PCD Pharma Franchise in Ankleshwar. We're offering our most demanded medicines and other Pharma products to our customers in Ankleshwar through our own PCD Pharma Franchise to a dedicated, trustworthy candidate passionate to venture into the Pharma industry.
Pax Healthcare offers a good profit margin to associates for its certified Pharmaceutical Products manufactured after deep research by highly trained, expert research scholars. We are known in the industry for our quality and ethical dealing practices. The company's State-of-art manufacturing facility which is WHO and GMP enables it to provide wide products range like tablets, capsules, injections, syrups, injectables, etc. Through PCD Pharma Franchise in Ankleshwar, the company is offering a business opportunities to pharma professionals.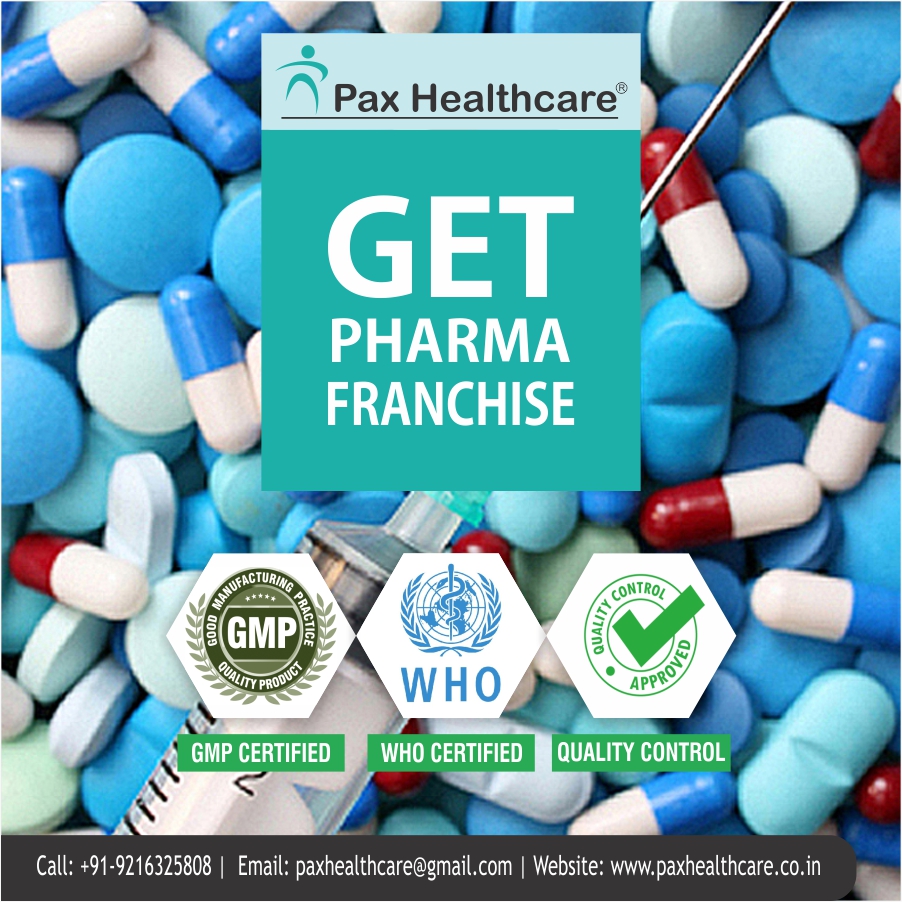 If you are interested in our PCD Franchise business then feel free to get in touch with us by dialing our toll-free number 800-121-8583. For other details or inquiries, you may drop us mail at paxhealthcare@gmail.com
Growth Aspect of PCD Pharma Franchise in Ankleshwar
Ankleshwar is the industrial hub in the  Bharuch District with more than 2000 industries registered under Gujarat Industrial Development Corporation signifying the interest of industrialists in Ankleshwar. Ankleshwar presents a golden opportunity for Pharma investors as Ankaleshwar is a budding Pharma hub. It has a huge potential to be the pharma hub of Gujarat in the coming years.
Following are the key features of Ankleshwar:
Trade fairs organized by GIDC to attract industrialists also attract a lot of customers to the city.
Well connected by National Highway- 8 (Mumbai to New Delhi)
connected by Western Railways.
a highly educated city with a literacy rate of 79%
the highest number of industries registered under GIDC (Gujarat Industrial Development Corporation)
GIDC estate of Ankleshwar is one of the biggest in entire Asia.
Pax Healthcare thus offers a great opportunity to establish a PCD Pharma Franchise business here. This city has a pretty good population to cater to and moreover has big industrialists visiting frequently. Being an industrial area needs a lot of medication to stay fit and keep up with the pace of routine life.
So, what are you waiting for, get in touch with us to become our Franchise partner in the city of Ankleshwar.
Best PCD Pharma Franchise | PAX HEALTHCARE
Headquartered in Chandigarh, Pax Healthcare is a WHO, GMP certified Pharmaceutical company in India and is involved in the development and manufacturing of pharma products and their sale distribution all over India. We are strong believers in research and are fully dedicated to constantly investing in advanced technologies and equipment.
Being the best PCD Pharma Franchise company, Pax Healthcare offers the most authentic, well-certified products to its customer all over the nation. We make sure that our products reach our customers sitting in different corners of the nation within time and in perfect condition. With the help of Well-qualified and experienced researchers, we have developed innovative medicines and treatments.
We offer products in more than 45 therapeutic areas spread across 12 specialties such as cardiovascular, gastrointestinal, anti-diabetic, anti-fungal, haematinics, anti-biotics, anti-infectives, analgesics, respiratory agents, immunological, etc.
Pax Healthcare offers a wide range of products to its customers under the following categories:
Tablets
Capsules
Liquid
Dry Syrup
Injection
Sachet
Dry Syrup
Powder
Drops
Topicals
Dental
Herbal/Ayurvedic
All these are manufactured in WHO/GMP certified manufacturing units maintaining every industry standard and protocol. Our Quality Assurance team is dedicated to examining the quality standards followed in manufacturing and research at all times. All the products are fully tested and verified by certification agencies like DCGi, FSSAI, etc.
Benefits to Our PCD Pharma Franchise Partner in Ankleshwar
PCD Pharma Franchise Business offers endless growth opportunities. One can grow beyond the limit and earn a good amount of money and respect provided they join hands with the best Pharma Franchise Company and do the business creatively. A franchise business gives you heavy returns against a very low investment.
Thus, Pax Healthcare invites you to be a Franchise partner with the industry expert and known for quality. We offer products at an affordable price with no compromise over the quality standards of the products. We value the connections we make and provide all possible support to our associates.
We offer the following assistance to our franchise partners:
We provide quick deliveries to our distributors with the help of a well-established network throughout India
Offer promotional aid by providing things like MR bags, Calendars, reminder cards, visiting cards, banners, posters, etc.
Exclusively monopoly rights to our franchise partner depending on their location
we offer unmatched quality in our products
benefits of associating with a reputed brand
Pax Healthcare extends immense support to our associates by providing them exclusive marketing and distribution rights within their geographical limits. We provide a complete promotional kit to help our associates grow themselves in their area and build a reliable image among their customers.
Quick! Reach out!!
Name: Pax Healthcare
Address: SCO-177,Top Floor
Sector 38-C,Chandigarh,160036
Phone: +91- 9216325808, 9216325807, 9317503300
0172- 4371530, 4009952, 4009953
Email: paxhealthcare@gmail.com